A DIRTY HEADLIGHTS can SEVERELY IMPACT your VISIBILITY not only to other drivers but your own view of the road as well. Dirty headlights can REDUCE the LIGHT OUTPUT by up to 95% REDUCING the projection distance up to 90%. And to have it CLEANED with WATER and SOAP is JUST a TEMPORARY PROTECTION.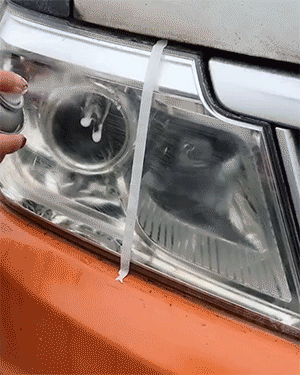 Here's a good SOLUTION for you,
introducing the High Density Headlight Polish Liquid
High Density Headlight Polish Liquid is a CLEANER that is SPECIALLY FORMULATED for HEADLIGHTS. It has a SUPER HYDROPHOBIC GLASS COATING that ACTS as a BARRIER COATING over the SURFACE of the HEADLIGHT.
It EFFECTIVELY REMOVES HAZE and CORROSION from the LENSES. It can PROTECT YOUR CAR from AGING, FADING, WEATHER, SUNLIGHT EROSION, ACID RAIN, INDUSTRY POWDER, AND POLLUTION. It RESTORES the LIGHT OUTPUT and LIGHT BEAM. It PROTECTS your CAR from SCRATCHES. It has a LONG-LASTING UV PROTECTION.
High Density Headlight Polish Liquid can also be APPLIED to PROTECT your CAR'S PAINT from FIVE FACTORS of AUTOMOBILE AGING: Scratch, Stain, UV Light, Rain, Dust. It has a PH TOLERANCE of PH2-12.
It is SAFE and NON-TOXIC. It BRINGS BACK the GLOW of your CAR while PROTECTING it 100%. It is EASY to FAST to APPLY. This MIGHTY CLEANER is NOT RECOMMENDED, or CAN NOT BE USED with the CAR REFURBISHMENT SET or ANY CAR ATOMIZER CLEANER.
Specifications:
Durability: 3 years.
Consumption: 10ML/30ML.
Coating Thickness: 30um.
Type: Car liquid ceramic coat.
Anti-corrosion: PH tolerance: PH2-12.
Satisfaction Guaranteed: If something is wrong with your order, you can quickly contact our helpful customer support team at [email protected] for assistance.