Found a new scratch on your car 💔?
FixEasy™ Car Scratch Repair Pen can easily remove all unwanted scratches and restore your car's paint permanently! From tiny blemishes to deep scratches, this touch-up pen is able to deal with all kinds of marks, leaving a bright and natural finish.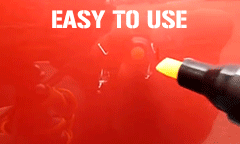 We offer 10 colors in total, including silver, black, white, brown, red, blue, navy, and more. You will definitely get the color that looks perfect on your loved vehicles. You can apply this paint to the scratched area after cleaning & just leave it for 30 seconds. Then you will have a brand-new car!
You don't have to be an expert! 
Effortlessly remove scratches by yourself!
FEATURES:
Instant Car Scratch Remover
FixEasy is the professional-grade touch-up pen that is designed to repair the damaged part of the car body paint. It can remove swirls and scratches easily.
Effective To All Damage
You can effectively remove all kinds of unwanted marks, like scratches, swirls, scuffs, watermarks, and other blemishes.
Shine Restorer
The micro polishing formula can leave a brilliant & natural shine on the surface. It can restore the gloss of the damaged part and make your used car look as good as new.
Various Color Choices
There are 10 colors available in total.  Our wide range of color choices can seamlessly bend with most car paints in the market. You can try it on paper before applying to check if the color consistent with your vehicles.
Easy To Apply
Clean the car body before use. Simply shake the pen and apply it to the scratched area. Leave it for 30 seconds to dry it and you will have a brand-new look!
Economical Permanent Solution
This is a permanent, water-resistant solution for all annoying scratch marks. It helps to save a lot of money in repairing scratches.
SPECIFICATIONS:
Capacity: 12ml
Material: Acrylic Resin & Mixture
Color: White/Black/Silver/Gray/Champagne/Red/Orange/Blue/Navy/Brown
PACKAGE INCLUDES:
1 x FixEasy™ Car Scratch Repair Pen