The Fast-Fix Instant Super Glue is your greatest helper on fixing any broken items that you have! It is super powerful and quick drying. It has strong adhesive feature to bond two surfaces and it can hold up heavy loads.
The glue has excellent performance that it works great on various surfaces and in extreme temperature. Just fix your stuff fast and easy, let's order now!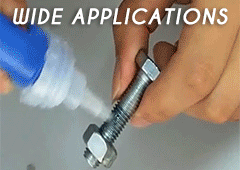 FEATURES:
Easy To Use:
Drop a little of the glue on surfaces that are required to repair, wait until the item is fixed.
Strong Instant Bond:
It has strong adhesive feature that it only requires to hold 10-30 seconds to bond two substances tightly.
Temperature Resistant:
The glue is temperature resistant that it can be used regardless in high or low temperature environment.
High Performance:
It has excellent performance in bonding, even in dirty or oil surfaces. Also, it can hold up heavy loads.
Multi-Surfaces Applications:
The super glue can be applied to various surfaces like metal, ceramic, plastic, glass, wood or leather.
SPECIFICATIONS: