The Fast & Easy Cubic Egg Cracker is an innovative egg cracker that is easy to use and make you a perfect egg in just few seconds. Don't want to make your hands dirty? This offers great help to keep your hands clean and avoid broken eggshells go into the food.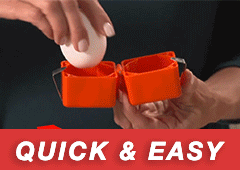 It is easy to clean and safe for the dishwasher. No matter you have different sizes of eggs, the cube fits all! To get a perfect egg, let's order now!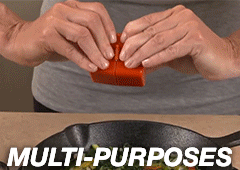 FEATURES:
No More Dirty Hands: You can crack an egg in a fast & easy way without touching it directly to let your hands stay clean.
Avoid Egg Shells In Food: It breaks an egg perfectly, it avoids any eggshell go into the food and enhances food safety.
Easy To Use: It is so easy to use with just 3 simple steps. Egg goes in, turn around and crack!
Fits All Egg Shapes: No matter what shape your eggs are, it fits all sizes of eggs.
Get A Perfect Egg: It gives you a perfect and complete shape without breaking it accidentally. Keep it looks good on the dishes.
Dishwasher Safe: The cubic cracker is easy to clean which is safe for the dishwasher.
SPECIFICATIONS:
Material: Plastic

Color: Red
PACKAGE INCLUDES: