Feel that you can never have enough storage space? Cannot find your favourite socks in the messy drawer? Check out this budget-friendly, easy organizing idea!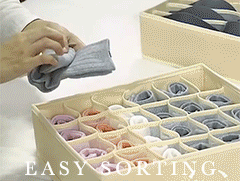 Essential Closet Organizer is a set of 4 organizers with 6, 7, 8 & 24 cells that helps to keep every small items neat & organized by category! Great for sorting socks, panties, bras, ties, bowties, handkerchieves, baby clothes, and more.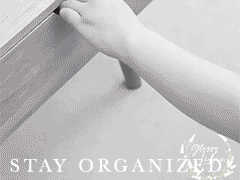 Made of high-quality non-woven fabric with a piece of cardboard inserted. It is mold-free, easy to wash and very sturdy. With the zipper at the bottom, you can easily fold it up when not in use.
Organize your space with the organizers that best fits your need!
Grab yours now!
FEATURES:
3-Piece Underwear Organizer
Keeps everything neat and organized by category, and especially great for sorting small items and cloths, like socks, panties, ties, bras, etc. You won't forget about the things buried under clutter.
Outstanding Sturdiness
Made of durable non-woven fabric with a piece of cardboard inserted. It can be used for a surprisingly long time thanks to its thick material & sturdiness.
Foldable & Space-Saving
Easy to fold with a zipper underneath. You can fold them up when not in use. Best organization solution for limited closet space.
Washable
It can be easily cleaned with a cloth or washing. It is quick-dry, odorless and mold-free.
Build Custom Organization System!
You can place the organizers as you want - under the long hanging bars, on the shelves or inside the drawers. Easy to access those hard-to-find items while you need them. It's a budget-friendly method for you to build your own closet system!
SPECIFICATIONS:
Material: Non-woven Fabric
Style: 6-Cell / 7-Cell / 8-Cell / 24-Cell
Size as below:
PACKAGE INCLUDES:
1 x Essential Closet Organizer