Here is the EASIEST way to keep your skin polish-free!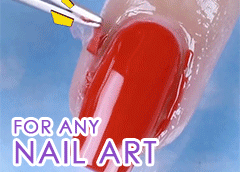 Easy Peel Off Latex Cuticle Guard is a quick-drying liquid nail polish barrier that prevents nail polishing from overflowing around cuticles, ensuring FLAWLESS, POLISH-FREE nail edges.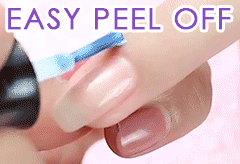 Ideal for nail stamping, gradient, marbling and sponging nail arts. 
FEATURES:
Easy Cleanup Tool for Messy Nail Art
Acts as a barrier or shield around the nail for keeping your cuticles free from polish/ glitter.
Easy to Peel Off and Quick Drying 
Fast drying and peels up in one piece with no residue!
Easy to Apply in a Few Quick Strokes
Simply apply latex around your nails, apply nail polish on nails and peel latex off to get flawless nail art.
Suitable for All Nail Arts
Perfect for various nail arts including gradient manicures, splatter nails, water marbles, or stamping and so on.
DIRECTIONS:
Apply to areas where you want free of polish.
Wait for 10 seconds to dry.
Complete your nail arts. (stamping, gradient, marbling, etc.)
Peel off the mess with your finger or tweezers!
SPECIFICATIONS:
Size: 6.4 x 1.5cm

Net Content: 5ml
PACKAGE INCLUDES:
1 x Easy Peel Off Latex Cuticle Guard