Are you struggling to get your eyebrows 'on fleek?' The Easy Eyebrow Shaping Stencil will be your new BFF.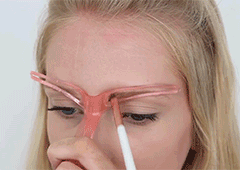 Create a picture-perfect shape; choose from curved arch, soft arch, structured arch and full arch. These brow stencils are suitable for all brow and face shapes.
Features:
Easy Drawing
A very quick and easy way to shape your eyebrows instead of spending much time trying to get both eyebrows the same shape
Easy Plucking
Also a great way to define eyebrows when plucking, apply a little more powder than usual to darken the eyebrow and pluck the stray hairs outside the shape
Easy Cleaning
Reusable, simply wipe with a damp cloth after each use
Works with a pencil, powder and cream products, or tweezers
How to use:
Select shape that best fits your eyebrows.

Align at both points. Ensure that most of your natural brow is inside the stencil.

Fill in brows using the stencil as a guide.
Product details:

Package includes:
8 x Easy Eyebrow Shaping Stencils