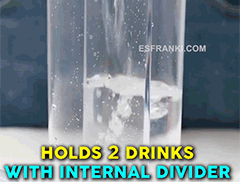 DualTastes™ Dual Drink Water Bottle is divided into 2 compartments with 2 separated straws. You can take away 2 different beverages with just 1 portable, slim bottle and enjoy DUAL TASTES! Save your space and you will never get bored of 1 flavour.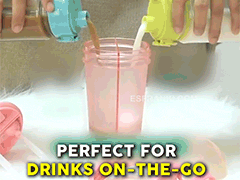 Suitable for both hot & cold beverages - Combine any drinks you like! Going to the gym you can have water and protein mix! Take water and milk for your beloved baby! Or even take coffee, juice, tea, energy drink and any favourite drinks for daily going out or traveling! Whether you're headed to anywhere, we'll keep you refreshed and hydrated all day long.
FEATURES:
1 Bottle 2 Drinks!
Includes a partition layer for

2 flavored drinks

at the same time! Simply fill in

2 even compartments

with different drinks and enjoy dual tastes!

Slim & Classic
Designed in

style of simplicity

with slim bottle and plain colors. Suitable for

both men and women

.
Standard Capacity


420ml is necessary for

daily use

, while 600ml is ideal for

gym or outdoor activities

.
Leakproof & Dustproof


The bottle lid design ensures there is

no leakage

and the bottle cap can

prevent dust

 and keep your beverage clean.
For Both Cold & Hot Beverages


Temperature resistance is

-20°C ~ +110°C

. It can hold any drinks including

water, milk, coffee, tea, juice

, energy drink, milkshake and more.
Safe to Use
Made of

food-grade

PP material which is

non-toxic, BPA-free

, safe and environmental-friendly. Rounded corners eliminate unwanted odors and

lingering flavors

.
Portable Design
Able to put into your bags without leakage. Also designed with a

convenient silicone loop

for easy holding.
SPECIFICATIONS: