DOES YOUR DIAPER BAG DO THIS?
We know that changing your baby's diaper day in and day out and carrying them all day long can be VERY EXHAUSTING! Having a private, clean, and controlled environment for your baby can sometimes be the difference between a cranky baby and a happy one. That's why at Hominx, we teamed up with experts and developed this backpack that has a built-in bed for your baby, anywhere, and anytime!
Lightweight(less than 1.5kg / 3.3lbs)
Measures 12 x 17 with 7 Deep. The Bed Expanded Measures 30 Wide
ExpandableInto a Bed for Babies up to 1.5Years
DurableandWaterproofMaterial
Spaciousand NicelyOrganised
ModularandRuggedDesign
Lifetime Warranty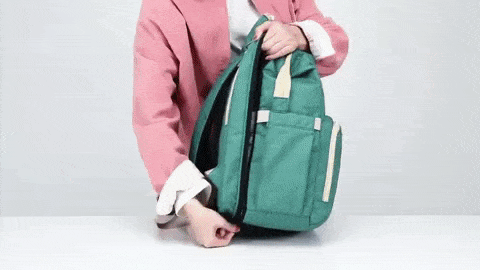 There is a fold-outsection with privacy walls for diaper changes and other necessary functionsbuilt into the back of our backpack. Without adding any extra space when folded, you and your baby will be ready for ANY situation, ANYWHERE.
MULTILAYER THERMAL INSULATION
Composite insulation material and high-density EPE foam create high insulation and allow you to maintain bottle temperature over time.
Suitable for a large variety of bottle and sippy cup shapes and sizes.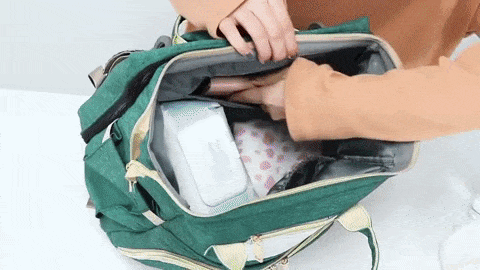 HIGH ORGANIZATION CAPACITY
Always have the essentials whether you are a jet setter or a stay at home mom. We got you covered.
COMPACT YET ROOMY
OurDiaper Bag is designed to look like a sleek designer bag yet we utilized the internal space to fit all of your and your baby's necessities.
The breathablewalls of the expandingsection are loose enough to allowyour baby to freely wiggle their arms and legs. Supports babies up to6 months of age.
COMFORTABLE IN ANY SITUATION
A breathable, anti-sweat backing feels comfortable in any situation.
Specialized pocketsdesigned specifically for you and your baby.
Stroller straps that let you take the weight off your back.
TRAVELANYWHERE
Ourexpanding diaper backpack bag is the perfect privatearea for your baby.
You might be at a picnic or at an airport, with our innovative backpack, you are always ready as a parent.
PERFECT GIFT FOR NEW MUMS
There's nothing more precious for a mommy than her baby, and there's no better gift for a new mum than this backpack.