Dull chainsaws are SLOW and DANGEROUS! Is your dull chain saw blade burning and bucking its way through the wood? Here's the easiest way to sharpen your chain saw blade and cut more quickly while avoiding messy chainsaw accidents!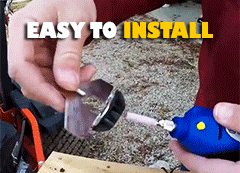 Chainsaw Sharpening Tool is made of high speed steel and designed with ideal sharpening angle, which ease the sharpening process. Universally works with all electric grinders. Easy to screw into grinders securely.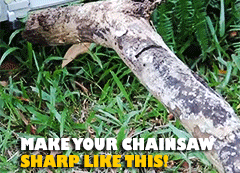 FEATURES:
Chainsaw Sharpener
Perfectly grinds blunt & slow cutting chainsaw and sharpens serrated blades with the best sharpening angle. 
Use with Electric Grinders
Easy to screw into any electric grinder.

High Quality Material
High-speed steel grinding heads are of high hardness, high wear resistance, heat resistance and impact resistance.
Safe to Use
Well-crafted structure provides secure tightening of the rotating tool instead of the tool cover.
SPECIFICATIONS:
PACKAGE INCLUDES: