About this item:
Our Anti-Blister Heel Cushions is a pack of innovative heel insoles integrated the latest technology to provide maximum comforts to your heels and all-day relief from pain, blisters, calluses.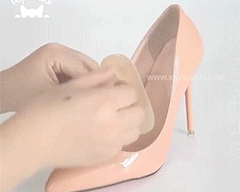 Your feet will suffer no more. Our heel cushions lines with the shock absorption technology that works 4x better than standard heel cushions on the market. It never slips, provides 100% protection to your feet.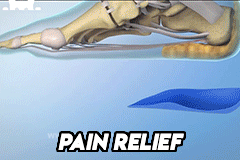 Features medical-grade silicone that holds feet firmly thus prevents shoes rubbing your heels on daily occasions. Proved to significantly reduce foot pain and conditions such as blisters and calluses.
Now you can wear your beautiful pair of heels confidently and comfortably.
HOW IT WORKS:
High heels create strain by pushing weight onto the foot, which causes pressure thus resulting in pain and disfigurement.
The Anti-Blister Heel Cushions helps by ergonomically spread the weight and promote better blood flow and vein health. 
FEATURES:
Heel Pain Killer:
Medical-grade silicone protects your heels from pain, blisters, callus. Shock absorption foot technology reduces impact and holds heels in place and prevents rubbing.
Strong Adhesive Design:
Our high heel grips have a sticky backing that keeps them in place. Simply remove the adhesive backing and place the pads on the inside heel of shoe. 
Never Slip:
Cushions are designed to fit the contour of the heel section of the shoe. Silicone material stops your feet from slipping in and out of your shoes.
Reusable:
These shoe inserts for women can be removed and sticked to other pair or shoe again. 
Good for All Shoes:
High heels, flats, pumps and boots. Great insert cups liner for women's blister prevention. A-must-have protection accessory for new shoes.
SPECIFICATIONS:
PACKAGE INCLUDES: