Aluminum Rope Tightener makes tightening and connecting line a stress-free task. Whether tethering a canoe to your vehicle, anchoring boxes to a dolly, or bundling wood, this carabiner secures large loads quickly and keeps tension where you need it.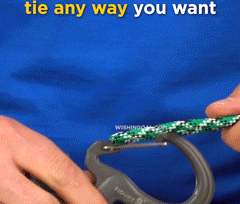 Loop your rope through its strategically designed prongs, pull it tight, and it stays that way. The integrated carabiner allows you to quickly connect lines to a fixed end point like a D-ring or loop.
A smart alternative to complicated cam-locking tensioning devices and bungee cords, the Aluminum Rope Tightener also controls the release of high tension, avoiding sudden and dangerous unloading.
FEATURES:
SPECIFICATIONS:
PACKAGE INCLUDES:
1 x Aluminum Rope Tightener