The All Season Windshield Protective Cover get your car covered in all conditions despite there is heavy rain, snowing or sandstorm, etc. The cover offers great UV protection and keeps the car cool in hot summer. It provides you a clear driving view while enhancing driving safety.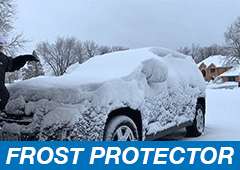 The cover is made of durable aluminium film which is water-proof which is great for preventing frost and raindrops. It is also light in weight and portable to have it in car. Let's get yours NOW.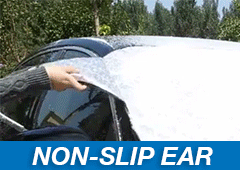 FEATURES:
Non-Slip Ear Design: The cover is designed with an ear which is foldable and can be hold tightly in car to prevent slipping off.
Anti-Frost Cover: It has strong water-proof feature which can prevent frozen windshield to keep the window clear and clean.
Great UV Protection: The silver side provides excellent UV protection by reflecting the harmful light rays and keeping the car cool.
Water-proof Feature: The fabric is made of water-proof material that is water repellent. It can protect the windshield in heavy rain.
Light & Portable: The cover is light and foldable. It is convenient to store it in car with space-saving feature. 
Highly Compatible: The size of the cover is highly compatible to various types of cars ranging from SUVs, sports car or other large vehicles.
SPECIFICATIONS:
Material: Aluminium Film

Size: 200cm X 70cm

Color: Silver X Black
PACKAGE INCLUDES: