360° rearview mirror phone holder
mounts smartphones
securely to the rear-view mirror
, elevating your device above eye-level as a head-up device. Provides a
non-obstructive driving view
instead of holding phones to car vent or dashboard.
No more looking down to view phones.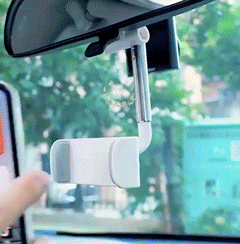 Support
horizontal/vertical screen switching
, which is convenient for you to adjust to the required navigation angle. You can
store it behind the rearview mirror
by pushing the pole and pull it out to use. It can be hidden when not in use.