The 2 in 1 Mini Self-rescue Emergency Keychain is a handy tool that will save your life in accidents and dangerous circumstances. It combines the powerful window breaker and the belt cutter for you to escape the car.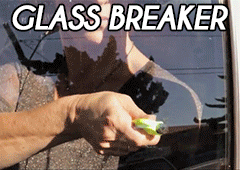 The mini rescue tool is designed in a keychain style which is light and portable to keep in your daily life. It is easy to operate that no extra heavy tools needed. To prepare for any unforeseeable situation and keep yourself and family members safe, let's order NOW!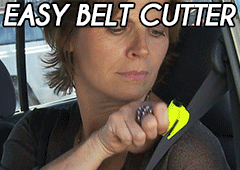 FEATURES:
2 in 1 Self-rescue Tools: It combines the powerful window breaker and the seat belt cutter into one compact tool kit.
Powerful Glass Breaker: There is a powerful steel point that can easily break any tempered glass in just a moment.  
Sharp Belt Cutter: A mini sharp cutter is made to cut and tear off jammed seat belts in seconds. 
Easy To Operate: With the spring-loaded design, it is easy to push the steel point out of the tool to break glasses. 
Portable Keychain Design: The self-rescue tool is light and portable with the keychain design. It is easy to keep it in pockets.
SPECIFICATIONS:
PACKAGE INCLUDES: