180° Magnetic Ring Charging Cable saves you from damaging charging ports of your devices.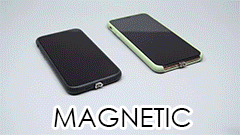 It supports auto and single-handed plugging with strong magnetic force.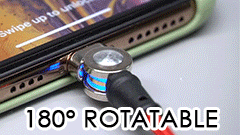 The plug can be smoothly 180° rotated around the ring for convenient charging. You can also charge 2 devices at the same time.
FEATURES:
180° Rotatable
Round rotatable design let you easily connect it by ONE HAND and any angle, especially convenient for drivers. 
Powerful Magnetic
Magnetic force allows auto plugging and unplugging by a slight pull. 


Easy Plugging
Ensures stable charging and lessens physical damage to the charging port of devices. 
Double Charging
The ring is able to connect 2 plugs and charge up to 2 devices.
Over Charging Protection




Automatically power off when full battery to protect your phone from over charging.

Fast Charging


2.4A quick charging speed works even for tablets and quick charger devices.
Universal
We offer Type-C, Lightning and Micro USB plug for high compatibility. 
SPECIFICATIONS:
Material: TPE jacket, Zinc Alloy, Aluminium Foil, Tinned Copper Core, Permanent magnet

Length: 1m

PACKAGE INCLUDES:
1 x 180° Magnetic Ring Charging Cable  
2 x Plugs (Micro USB/ Type C/ Lightning)